Hi fellow Ulm Toastmasters
I just finished listening to a relatively short book called Speak to Win
It is by Brian Tracy & it is only about 5,5 hours for the audio book
I cannot recommend it highly enough for all of you
We are all in Toastmasters to improve our communications so this book is very relevant
Audio book is €10 & book is almost €20
Regards Michael
President Danube Sparrows
Summary: Speaking to Win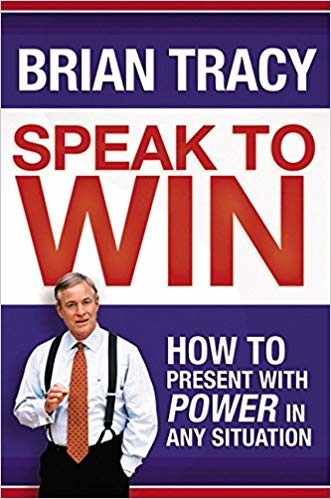 One of the professional development training items on the books for FY18-19 was the book Speaking to Win: How to Present with Power in Any Situation by Brian Tracy.
This post gives a quick overview of what I learned, with more details to be found in this PDF.
Overview
This book is written by a professional speaker and provides many aspects to consider when giving a presentation – ranging from practical tips about communication and knowing the audience to the logistics of room arrangement. The advice applies to anyone speaking to any size audience (e.g., company meeting, large conference) on any topic. The book provides dozens of tips and common behaviors of top industry speakers that can be incorporated to make your presentations go more smoothly and effectively. Mr. Tracy also describes the techniques used when your presentation is helping you with negotiation. Most importantly, speaking is a skill anyone can learn; "Every master was once a disaster." — Harv Eker.
Your job is to motivate and impel your listeners to think, feel, and act differently as a result of your words.
What if you asked people after your talk, "What did you get from my talk, and what are you going to do as a result?"
Preparation is key — it helps your credibility (ethos), impresses your listeners, and makes them more receptive to your message. The book has tips on considering your audience and how to start organizing your talk.
Make sure you've planned the opening and closing word-for-word; don't leave these to chance. At least you'll know exactly how your talk will start and finish.
Confident public speaking begins with having a message you want people to hear.
You have 30 seconds to focus on making a positive impression with your introduction. The book provides several examples to start your presentation.
Start with the end in mind; "If this meeting were perfect, what would be the outcome?"
Everything is a negotiation; people bring their own ideas/desires, and you may need to shift them
If people are not commenting or asking questions, they're not committing. If you always have consensus for big/risky ideas, then people don't understand how important they are.
Public speaking is not the same as having a regular conversation; your voice and body are instruments for communication, and there are ways to have them help you bring greater impact
The most common things to go wrong when speaking are sound, light, and temperature.
The ending is what stays with the audience as they leave, so make it worthwhile.
Public speaking is a form of selling; you need to build the trust of your audience so they'll accept your message. The more people believe you (credibility), the more open they are to persuasion.